Well, as some of you might know, I'm quite the fan of playing Fish decks. And with the Xyz already out and more on the way, it's only natural that I give my shot at making 2 versions of Xyz oriented Fish decks. Now, while they still support a few tuners, they only use one Fishborg for both access to lvl 8 synchros via Coelacanth or access to Shooting Star Dragon. But the main tuner here is Royal Swamp Eel, as it can give access to level 7/8 synchros and Rank 4 Xyz when needed. With such versatility, I figured I could give it a shot.
Here's deck #1: Phantom Fish, Xyz Edition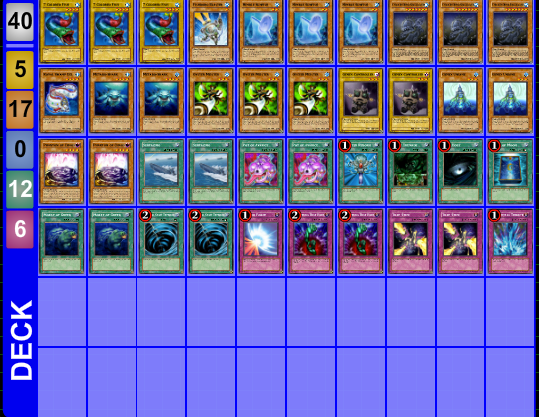 Running the Genex/Sunfish engine, the Phantom variant makes full use of well...Phantom of Chaos itself. The variant had issues since after taking Coelacanth's effect, it was just a sitting duck. But now it's all different since you can use Phantom for an Xyz summon and have more options when you set up your field.
Surfacing allows for more Xyz and Synchro shenanigans as you can revive any lvl 3 and combine with Genex Controller for a Brionac or make a Revise Dragon. It's also a bit more flexible with traps, since there's no reason to use Treeborn here. However, room is tight but Surfacing is a card of choice and can be changed for more defenses if needed.
The next deck sounds ridiculous when you hear it, but I think it can be quite fun to use.
Deck #2: Rabbit Fish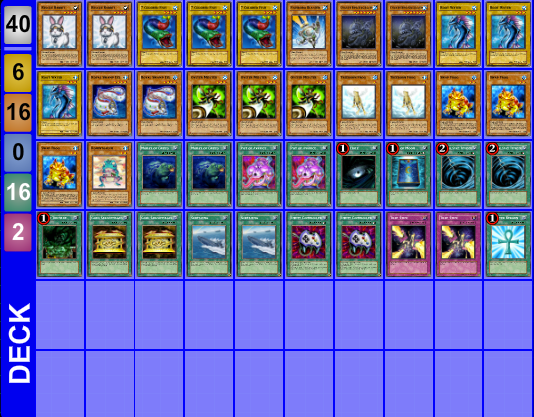 So yea, as one would assume...it makes full use of Rescue Rabbit. However, this one does support the Frog engine for tributing, but it's still not fully focused on synchro as seen with only one Fishborg. 7 Colored Fish and Root Water make excellent Rabbit targets and can be sent back to the deck via Moray, or the can simply be summoned via Coelacanth. As usual, it runs 2 copies of Royal Swamp Eel to give access to some synchros, but mainly to give access to Rank 4 if necessary.

Coelacanth has been dropped to 2 since the main focus isn't an OTK, but it's still a focal point of the deck. However, Rabbit's assistance makes up for the loss of 1 Coelacanth, but it can also be adjusted to personal preference.

As for the extra deck, here's more or less what I'm looking into.

Phantom Variant:

Stardust Dragon
Formula Synchron
Shooting Star Dragon
Thoughtruler Archfiend (or any other lvl 8 synchro)
Brionac
Gungnir
Black Rose Dragon
Inverz Roach x2
Revise Dragon
Black Ray Lancer x2
Utopia/White Knight Illuminator/Evigishki Merrowgeist/Vylon Disigma x3 (in any combination you want)

Rabbit Fish Variant:

Stardust Dragon
Formula Synchron
Shooting Star Dragon
Any other lvl 8 Synchro
Gungnir
Black Rose Dragon
Black Ray Lancer x2
Revise Dragon
Inverz Roach x2
Evigishki Merrowgeist
Utopia
Vylon Disigma
White Knight Illuminator

Extra decks are very flexible here, but more or less these are what mine would look like in this case.

The great part about the Xyz variants is that the extra deck can become more and more flexible as time goes on and we get more Xyz monsters. But for now, it's only something that just came to me while trying to recreate my Fish deck.