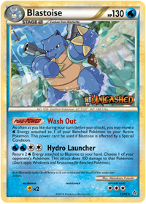 Well, May is almost upon us and it's time to look ahead to the next expansion! This time around, the promo to the next set is Blastoise.
(Credit to Pokebeach for the image)
It's a Stage 2, 130HP Water pokemon with a retreat cost of 3 and double weakness to electric.
It's Poke-Power is "Washout" and it's effect reads...
You can use this power any number of times during your turn. Move 1 Water Energy attached to one of your Benched Pokemon to your Active Pokemon. This power can't be used if this Pokemon is affected by a Special Condition.
This is quite a good card to have if you want to distribute your energy supplies between the benched and active pokemon. Combined with Feraligatr Prime, it can be quite effective. Why combined with Feraligatr? Let's see it's main attack..."Hydro Launcher"
For 2 Water and 2 Colorless energy cards you return 2 Water Energy attached to Blastoise to your hand, and do 100 damage to 1 of your opponent's Pokemon without applying weakness and resistance for those pokemon on the bench.
Combined with Rain Dance, you can be guaranteed to do 100 damage every turn. Quite good, huh? Let's see where this idea goes...